ISSA Chengdu \ Sculpture in Flower Town
The 2022 "the Way of Harmony" International Public Art Symposium (ISSA Chengdu) ended on August 31 in Chengdu, China, with the completion of 12 sculptures by 13 sculptors from 5 countries in a town famous for its flowers and trees.
This year's creation symposium, the fourth in a row, was held even more valueable between the three years of the pandemic. The event was hosted academically by Xu Zhenglong, with Shu Xingchuan, Wang Xuhui and Yang Shuai teaming up to plan the event, and university students from Sichuan University and Southwest Jiaotong University volunteering their services. Thirteen sculptors, including Olga Cuxart Oriol from Spain, Kuasi from Côte d'Ivoire, Mohammed Al Atiq from Qatar, Martin and Pavel Feat from Russia, and Chinese sculptors Zhu Shangxi, Cao Chunsheng (Jiangxi), Zhang Guojun, Wu Bingxian, Liu Yang, Wenhao, Zhao Qin, and Liu Bei, completed 12 sculptures (including collaboration).
The creation symposium used scrap metal as material. During the two-week period, the artists created secondary works based on the original project and tried new artistic expressions according to the characteristics of the materials. The completion of the works enriched the cultural connotation of Shouan Flower and Wood Town as well as broadened the international perspective.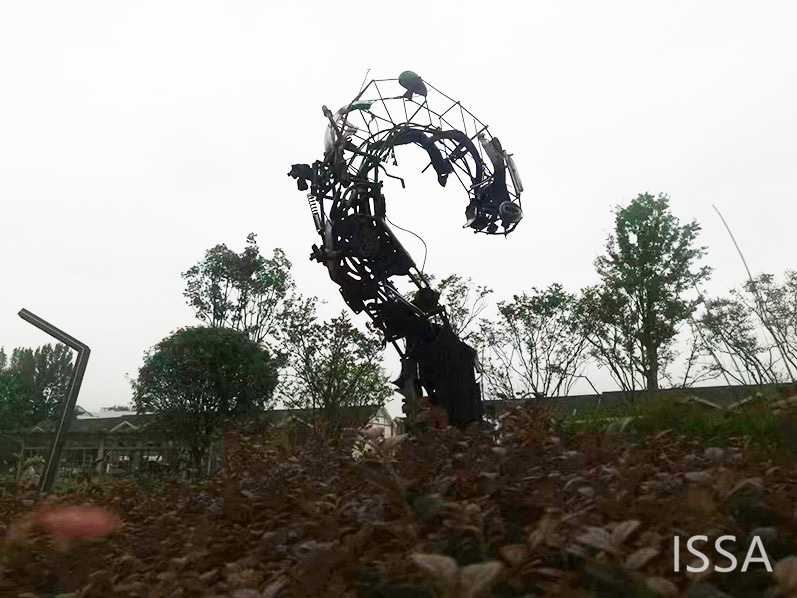 Contributor: ISSA Chinese Committee Shu Xingchuan
Editor: Liu Qin, Song Mingcheng
Translator: Sun Ya'nan, Sun shuang
Legal advisor: Tao Ranting